Angel Food Churro Bites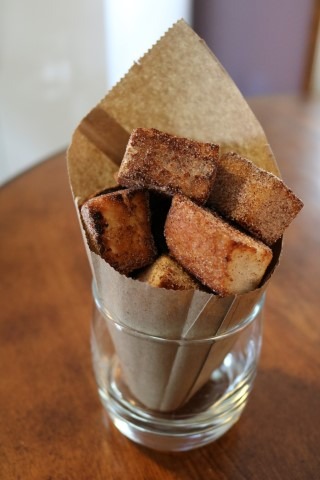 Love Churros but don't want to make them from scratch? Here is a simple easy recreation of this Spanish dessert.
I often come up with short cuts for baking or cooking items at home. Lets face it, families have busy lives and I would rather see people staying at home to have a family dinner together, or cooking in the kitchen together, than going out for fast food or eating on the run. So if there needs to be short cuts, on some of the dishes, so you can get that family time in, so be it!
If you are making a Spanish or Mexican dish for dinner, you may want to make some Churros to have on the menu.
These are super simple to make. The traditional version requires making a dough and deep frying. This version only requires a few steps and only takes a few minutes.
ANGEL FOOD CAKE CHURRO BITES
Ingredients:
2/3 Cup White Sugar
1 Tablespoon Cinnamon
1 & 1/2 Tablespoons Canola Oil
1 (10 oz.) Angel Food Cake Loaf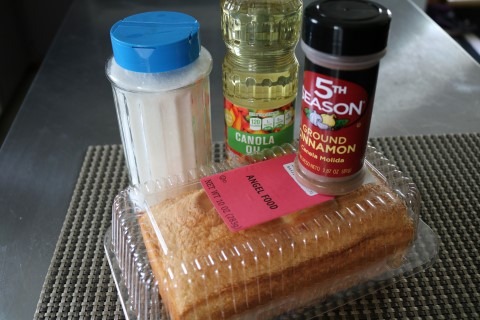 Directions:
1. Cut the Angel Food Cake Loaf into 1 & 1/2 inch cubes.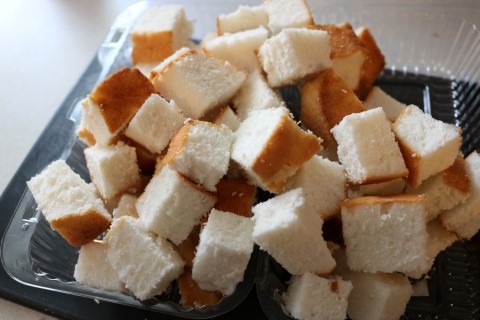 2. In a paper lunch bag, add the Sugar and Cinnamon. Roll the top down tightly and shake the bag to mix the two together. Set aside.
3. Over medium heat, add 1/2 Tablespoon of the Oil into a large non stick frying pan. Add 1/3 of the Angel Food Pieces. We are going to work in 3 batches to cook these Churro Bites. Fry and flip the Angel Food Cake pieces. Watch closely as they can brown very quickly. You can turn the heat down to medium/low if necessary. Watch them closely and turn often to brown on all sides.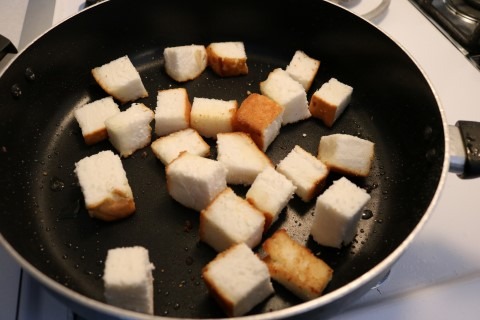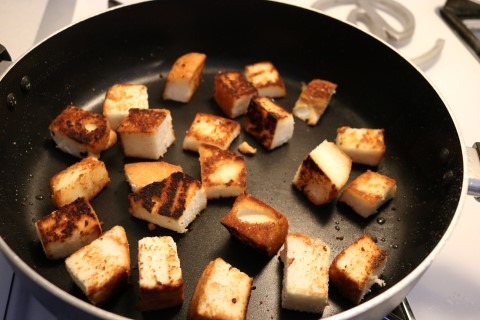 4. Transfer the Fried Angel Food Bites on to brown paper.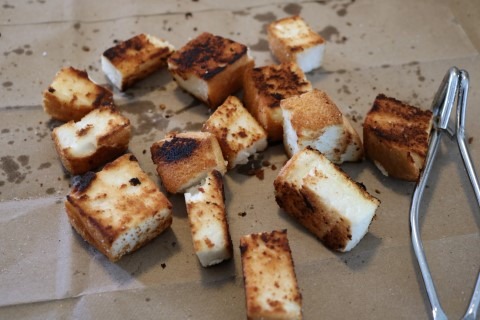 Then quickly place them in the prepared bag with the Cinnamon Sugar. Shake vigorously to cover the Angel Food Bites in the mixture. Remove the Bites from the bag and place onto a sheet pan lined with parchment paper.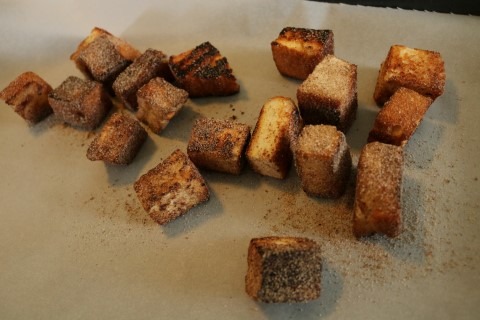 5. Repeat the above 2 steps for the last two batches.
6. Allow the bites to cool completely then serve. I like to make individual servings using a brown paper cone and a short glass as you see here. I just make the cones out of brown paper lunch bags. Set one at each place setting.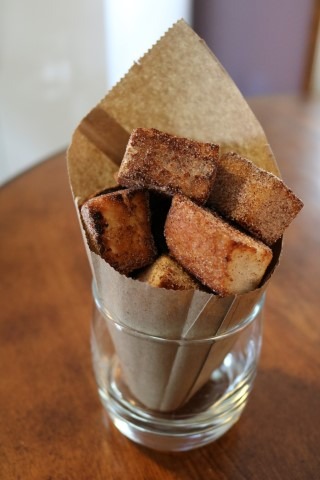 Store leftovers in an airtight container.
Recipe by: Hot Dish Homemaker